Defending Human Rights Through Social Action: The Role of the Catholic Church in Latin America in the 1960s–1980s
Abstract
Since the earliest days of colonization, religion – in particular, the Roman Catholic Church – has been a driving force in the Latin American politics, economics, and society. As the region underwent frequent political instability and high levels of violence, the Church remained a steady, powerful force in society. This paper will explore the relationship between the Catholic Church and the struggle to defend human rights during the particularly oppressive era of bureaucratic-authoritarianism in Latin America throughout the 1960s–1980s. This paper seeks to demonstrate that the Church undertook the struggle to protect human rights because its modernized social mission sought to support the oppressed suffering from the political, economic, and social status quo. In challenging the legitimacy of the ruling national security ideology and illuminating the moral dimensions of violence, the Catholic Church became a crucial constructive agent in spurring social change, mitigating the effects of violence, and setting a democratic framework for the future.
References
Anderson, Lemuel, Rachel Ramirez, and Amy Erica Smith. 2018. "Religion and Politics in Latin America." Oxford Scholarship. November 29. https://www.oxfordbibliographies.com/view/document/obo-9780199756223/obo-9780199756223-0254.xml#firstMatch.
Beezley, William H., and Judith Ewell, eds. 2001. The Human Tradition in Modern Latin America. Wilmington, Del.: SR Books. https://rowman.com/ISBN/9780585294605/The-Human-Tradition-in-Modern-Latin-America.
Cleary, Edward L., and Timothy J. Steigenga. 2004. Resurgent Voice in Latin America: Indigenous Peoples, Political Mobilization, and Religious Change. New Brunswick: Rutgers University Press. https://trove.nla.gov.au/work/9900523.
Daudelin, Jean, and W. E. Hewitt. 1995. "Churches and Politics in Latin America: Catholicism at the Crossroads." Third World Quarterly 16, no. 2: 221-36. http://www.jstor.org/stable/3993306.
Dault, Kira. 2014."What is Liberation Theology?" U.S. Catholic, 46. https://www.uscatholic.org/articles/201410/what-liberation-theology-29433.
Dear, John. 2011. "Gustavo Gutierrez and the Preferential Option for the Poor." National Catholic Reporter. November 8. https://www.ncronline.org/blogs/road-peace/gustavo-gutierrez-and-preferential-option-poor.
De La Torre, Miguel A. 2009. Hispanic American Religious Cultures. Santa Barbara, Calif.: ABC-CLIO.
Estévez, Ariadna. 2014. "Myth and reality: the Catholic Church and human rights in Latin America." Open Democracy. September 11. https://www.opendemocracy.net/en/openglobalrights-openpage/myth-and-reality-catholic-church-and-human-rights-in-latin-america/.
Hale, Christopher W. 2019. "Catholic Church Advocacy in Latin America." Oxford Research Encyclopedia. https://oxfordre.com/politics/abstract/10.1093/acrefore/9780190228637.001.0001/acrefore-9780190228637-e-811?rskey=KTsIFo&result=6.
Mantilla, Luis Felipe. 2016. "Faith and experience: Authoritarian politics and Catholic parties in Latin America." Party Politics 24, no. 4: 370-80. https://doi.org/10.1177/1354068816663035.
Meredith, Harvey. 2016. The Search : Looking for Truth in the Christian Religion. n.p.: Xlibris.
Singer, Olivia. "Liberation Theology in Latin America." Brown University Library. https://library.brown.edu/create/modernlatinamerica/chapters/chapter-15-culture-and-society/essays-on-culture-and-society/liberation-theology-in-latin-america/.
Smith, Brian H. 1979. "Churches and Human Rights in Latin America: Recent Trends in the Subcontinent." Journal of Interamerican Studies and World Affairs 21, no. 1: 89-127. DOI: 10.2307/165692.
Smith, Christian. 1994. "The Spirit and Democracy: Base Communities, Protestantism, and Democratization in Latin America." Sociology of Religion 55, no. 2: 119-43. DOI: 10.2307/3711853.
Teicher, Jordan G. 2012. "Why Is Vatican II So Important?" NPR. October 10. https://www.npr.org/2012/10/10/162573716/why-is-vatican-ii-so-important.
Wilde, Alexander. 2016. Religious Responses to Violence: Human Rights in Latin America Past and Present. Notre Dame, Indiana: University of Notre Dame Press. https://undpress.nd.edu/9780268044312/religious-responses-to-violence/.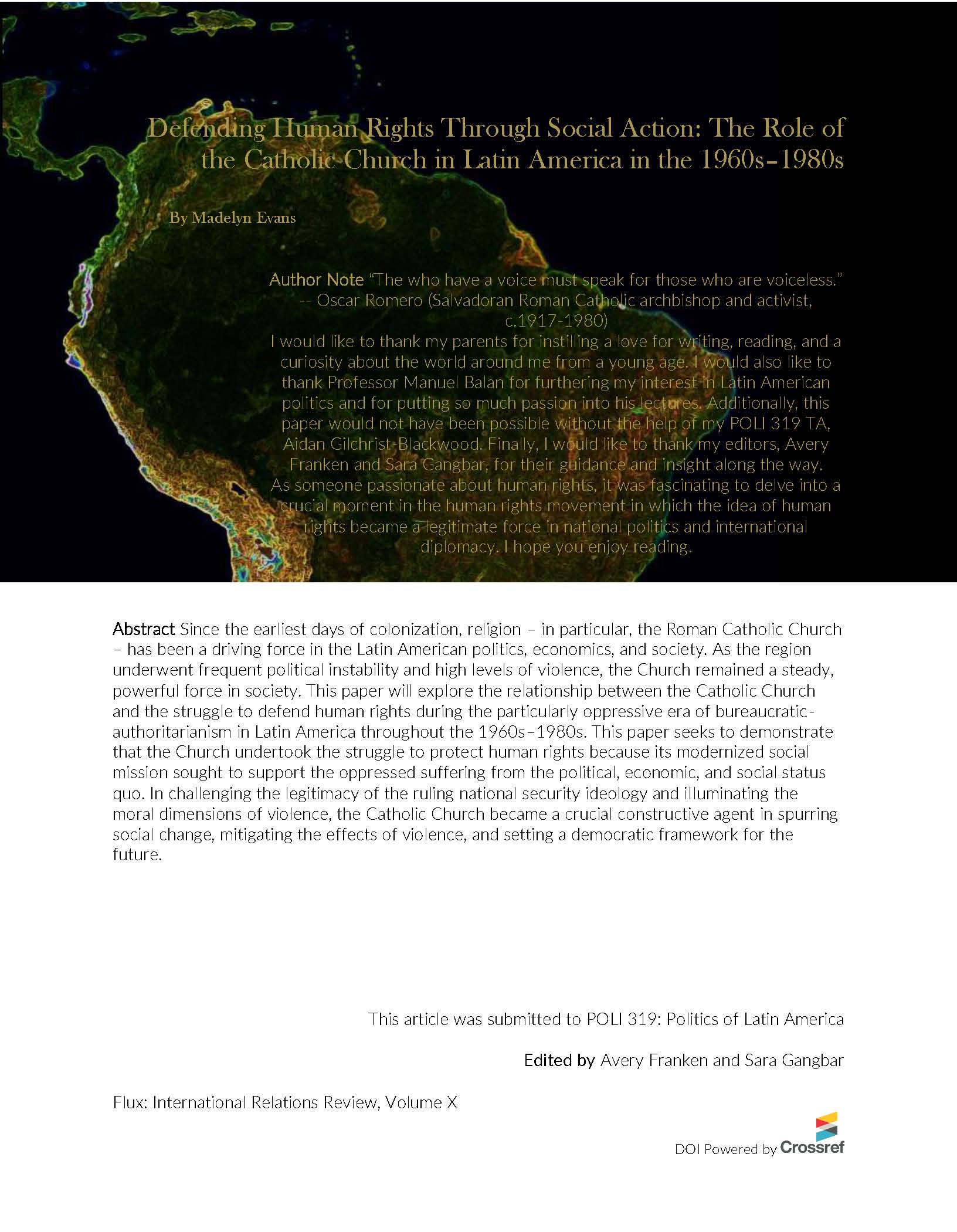 Downloads
License
Copyright (c) 2020 Madelyn Evans
This work is licensed under a Creative Commons Attribution-NonCommercial-NoDerivatives 4.0 International License.